OR CCB#: 173689 | WA CCB#: ROCKPP1934BR
67853 N. Fork McKay Creek · Pilot Rock, OR 97868
Phone: (541) 443-2107
Rock … In Place conveyor material placement and fine grading company is headed by Tim Anderson, who has more than 20 years experience in the excavation and utility business.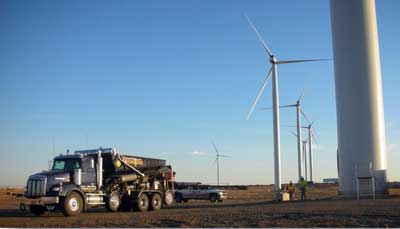 Like many of our customers, Tim's excavation company struggled with the challenges of prepping for concrete crews. He had to fine grade slabs and place gravel, dirt or landscape products into hard-to-reach locations. He saw other contractors faced the same challenges, but the price of adding equipment for these tasks just didn't pencil out.
So to make the equipment cost-effective for us and for you, we started Rock…In Place Inc. to specialize in these tasks.
Now we provide conveyor material placement and fine grading to contractors throughout the Pacific Northwest. And at a price that allows for your markup while increasing your production rate — so you can complete your project faster.
Whether your project is in the bidding phase or already underway, we can give you a quote customized to your specific needs.
All of us at Rock … In Place look forward to working with you on your next project.
Call now to save time, money and increase production with Rock ... In Place.