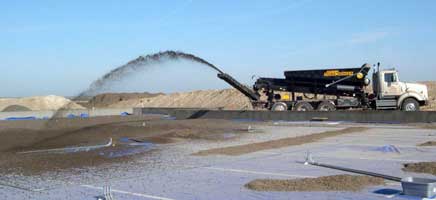 Rock … In Place Inc. provides Conveyor Aggregate Delivery and Fine Grading services throughout the Pacific Northwest.
Like you, we understand the frustrations of trying to backfill sidewalks — or trying to place gravel in a building with so many utility stub-ups you can't reach most of the floor.
Rock … In Place, a conveyor material placement and fine grading company established by Tim Anderson, has been dealing with these same problems for more than 20 years. We understand earthwork, prepping concrete sub-grades and utility trenching.
We know how to put the finishing touches on your project by placing topsoil, landscape bark or decorative rock for you.
Call now to save time / money and increase your production.
Rock … In Place uses Remote Control Conveyor Units combined with an automated, double-mast Laser Screed to place and fine grade sub-base.
The conveyor unit can get to those hard-to-reach areas. It places gravel up to 70 feet away at rates up to 100 CY per hour.
The double-mast laser screed quickly fine grades sub-base to an accuracy of +/- ¼ at rates up to 2,500 sq. ft. per hour. It lets us fine grade sloping slabs, and saves you money you would have spent on hand labor.
We work hard to get your job done on time — and accurately.
Our personnel are experienced, dedicated and attentive to detail.
Call now for gravel placement, fine grading or landscape material placement on YOUR job.